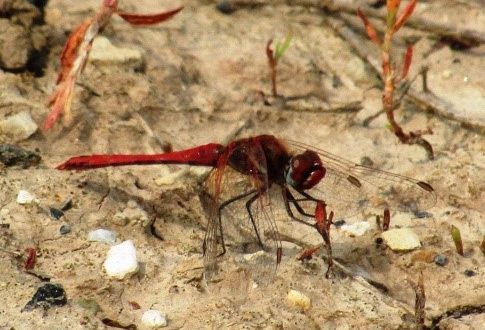 The Damselflies and Dragonflies of Oakhill Nature Reserve 2017 Odonata Report
Odonata is the scientific term used by entomologists and enthusiasts to describe the order of insects that comprise Damselflies and Dragonflies.
April 23rd 2017 and the first Large Red Damselfly Pyrrhosoma nymphula is seen on the wing at Goole Brick Ponds. Heralding the start of the new flight season at the reserve. A season that would prove to be most memorable. In contrast to the cold and wet spring of the previous year, the spring of 2017 was pleasantly warm and relatively dry. South and south westerly airflows helped produce the type of weather conditions ideal for expected emergence times. 2017 saw twenty species recorded which included a new species to the site, Red-veined Darter Sympetrum fonscolombii, an uncommon migrant to the UK from southern Europe. The Oakhill and Goole Brick Ponds site list now stands at an outstanding twenty one species.
2017 species list and first sightings dates with observer name/s are as follows;
Large Red Damselfly Pyrrhosoma nymphula 23rd April. Peter Hinks.
Blue-tailed Damselfly Ischnura elegans 1st May. Brian Smith.
Common Blue Damselfly Enallagma cyathigerum 5th May. Peter Hinks.
Four-spotted Chaser Libellula quadrimaculata 11th May. Matthew Cox. Peter Hinks.
Azure Damselfly Coenagrion puella 12th May. Peter Hinks.
Red-eyed Damselfly Erythromma najas 22nd May. Peter Hinks.
Hairy Dragonfly Brachytron pratense 26th May. Anne Howard Webb.
Broad-bodied Chaser Libellula depressa 31st May. Peter Hinks.
Emperor Dragonfly Anax Imperator 4th June. Paul Adams.
Black-tailed Skimmer Orthetrum cancellatum 16th June. Peter Hinks.
Brown Hawker Aeshna grandis 18th June. Matthew Cox.
Common Darter Sympetrum striolatum 19th June. Peter Hinks.
Emerald Damselfly Lestes sponsa 19th June. Peter  Hinks.
Red-veined Darter Sympetrum fonscolombii 20th June. Brian Smith.
Common Hawker Aeshna juncea 26th June. Paul Adams.
Southern Hawker Aeshna cyanea 26th June. Paul Adams.
Ruddy Darter Sympetrum sanguineum 26th June. Paul Adams.
Black Darter Sympetrum danae 12th July. Paul Adams.
Migrant Hawker Aeshna mixta 25th July. Paul Adams.
Small Red-eyed Damselfly Erythromma viridulum 20th August. Paul Adams.
Notes on selected species of importance to the site.
Small Red-eyed Damselfly.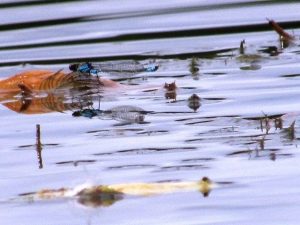 Only three records from the Brick Ponds the first sighting being on 20th August. Although this date is well into this species flight period, it mirrors the time of last year's first ever sighting. It is confined to the smaller Brick Pond.  Small Red-eyed Damselfly has a toe hold and no more than that so far.
Hairy Dragonfly.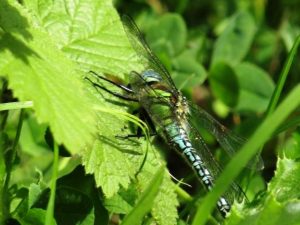 Present and breeding at the small pools near the Brick Ponds but in very small number. No sign of significant population expansion. Probably due to nymph stage survival against the likes of Four-spotted Chaser and The Hawker species Common, Southern and Migrant which dominate. Habitat management is designed to help keep this species at the Brick Ponds.
Broad-bodied Chaser.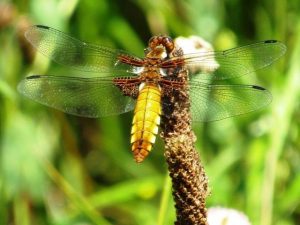 As suggested in the 2016 review. The drain to the north of the Brick Ponds provided good habitat for this species to remain on site. Several records of males, females and oviposting. Good news.
Red-veined Darter.
A male found at Tom Pudding Flash on 20th June by Brian Smith coincided with a major influx of this highly migratory species to many parts of the UK and Ireland. At the time little if any thought was given to the notion that breeding may take place. Subsequent follow up searches found no females. However in September extensive fieldwork by Peter Hinks found emergent immatures. So many that the suggestion of a second generation continental influx was dismissed. The finding of exuvia proved breeding. This species has an extraordinary and rapid growth period. From egg to nymph to adult in only three months! The very shallow waters of Tom Pudding Flash provided the perfect breeding and growth  habitat. It could not have bred anywhere else on the reserve. Food supply must have been adequate. News of what was happening at Tom Pudding Flash spread far and wide, attracting vice county recorders and enthusiasts from North and West Yorkshire and a couple from Wicken in Cambridgeshire! There are two excellent articles on this occurrence with Adrian Parr writing in the December 2017 edition of the British Wildlife magazine and Peter Hinks writing in the YNU Naturalist magazine December 2017. Oakhill has become famous.
I must thank Anne Howard Webb for her kind permission to use her habitat photograph of Tom Pudding Flash. Small Red-eyed Damselfly. Hairy Dragonfly. Broad-bodied Chaser and Red-veined Darter photographs by Paul Adams.
Many thanks and appreciation to Matthew Cox. Daniel Challenger. Peter Hinks and Brian Smith. For their work in the field and sending me their records.
Paul Adams
January 2018.