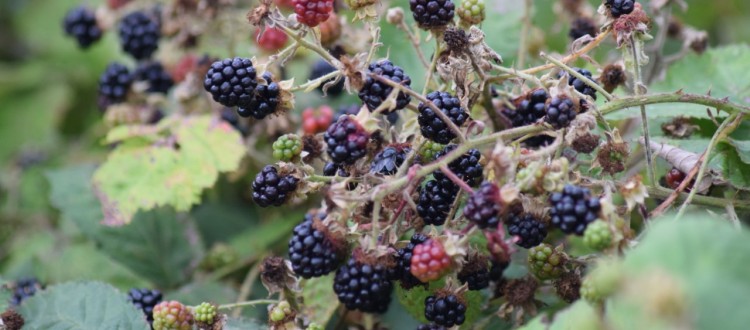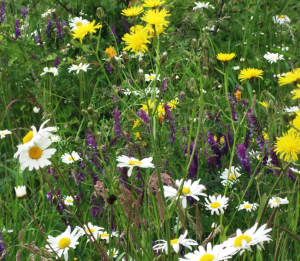 I first went to the Oakhill site and Brick Ponds area in 1991 when  my nephew and his friend at the end of their summer holidays showed me where to pick blackberries.
I remember it was a lovely sunny day and I was thrilled to find this wild area with fields lanes, woods and ponds.  I've been going there ever since.  It's a wonderful place at any time of year and apart from seeing wildlife such as birds deer, rabbits, squirrels toads voles and many insects,  wild flowers fungi and trees,  it's also a haven for foragers like me.
Our forefathers would have done this every year, it's fun, free and  the fresh air it's a good feeling to have a few jars of homemade produce in your "pantry".
There are blackberries, sloes, rosehips, hawthorn berries apple and pear trees, hazelnut bushes and walnut trees.  They are growing wild,…no chemicals have been sprayed directly onto them.
I only pick responsibly for my own personal use although I do give most of the preserves I make away!  There is plenty left over for the wildlife inhabitants who have often got there before me.
Blackberries/brambles (Rubus) are a familiar perennial shrub with prickly stems, white-pinkish flowers in summer followed by drupelet fruits maturing from green-red-purplish black in mid-late summer early autumn.  I collect them in plastic containers so they don't crush and use an old walking stick to help access.  They are rich in Vitamin C as well as many other nutrients and can be used to make jams, jellies pies crumbles and other desserts, dyes, plus wine liquers and fruit vinegar.
I wash the fruit  and remove stalks calyxes and any damaged bits and they can be frozen til you are ready to deal with them.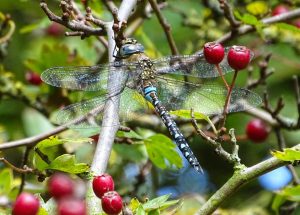 Sloes are fruit of the Blackthorn shrub Prunus Spinosa,  which has spiny branches.  They are one of the first shrubs to flower in early spring and you can see hedgerows of them all over the countryside.  The berries ripen to purplish blueish black in autumn and are said to be best picked after a frost.  They are very astringent if you try biting into one.
After washing I freeze them, this splits the skins so when making sloe jelly/gin you don't need to bother pricking every berry as it says in some recipes.  Personally I don't like sloe gin, but I've tried Rosehip Gin (made in the same way)  and it is lovely.
Wild roses (dog roses) grow everywhere and have pinky white flowers in spring, then hips which ripen to an orangey-red. They are from the same family as apples and crab apples.  In the Second World War people scoured the countryside foraging because of food shortages and rationing, even when I was at school in the late 50's/early 60's we used to collect them for the school who got money from the Delrosa Rosehip Syrup factory.  Highly rich in Vitamin C they can used to make jellies, syrups, wine, liqueurs and teas.
I don't bother fiddling about trying to remove the seeds (which we used to as kids shove down the back of each other's jumpers -they are itchy-)  after gently stewing I sieve and strain through muslin.
Elderberries (Sambucus Nigra) are a familiar sight, a large shrub/small tree with creamy white flat heads of star shaped flowers in late spring followed by drooping branches of purplish black berries, juicy and rich in Vitamin C and many other nutrients with anti inflammatory properties and anti oxidants.  The plant is steeped in ancient folklore and linked with magic,  and supports a variety of wildlife.  After washing, I use a fork to prong the berries off the stalks.  They are rich in tannin and can be used for jams jellies wines cordials and for making dyes.  The flowers can also be used in various ways and go well with gooseberries.  They make a lovely wine and a sparkling 'elderflower champagne'!
They can be dried and used in teas.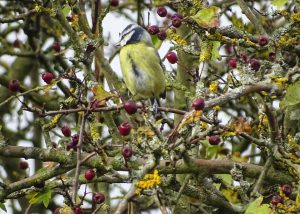 I always use a large stainless steel preserving pan to make jams and jellies, but any large pan will do as long as it is not aluminium.  I find it easier to test for the setting point of jam by putting a teaspoonful on a cold saucer and after a minute or so, draw your finger through it.  If it remains separate, it is ready.  The jars I wash and rinse and sterilise in the oven, so they are hot to put the jam into.  The lids I boil a few minutes and after filling the jars to the brim, I put the lids on straight away.  As the jam cools it shrinks and forms a vacuum to preserve the jam.   Some fruits do not have enough pectin in them to make a jam set, but you can aid this by adding lemon juice.  I never buy sugar with pectin added as it is more expensive.
It's lovely to go down there to the Oakhill/Brick Ponds site, on a warm autumn day, gathering berries, with the bees buzzing, birds singing and the sun shining.  It makes me feel glad to be alive and we are so lucky to have this special place right on our doorstep.
By Lydia Seetulboseea.