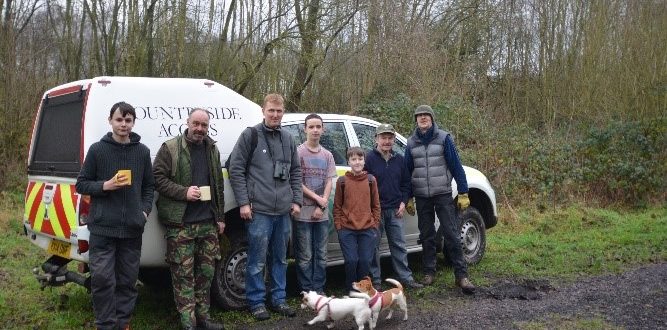 Oakhill Conservation/Volunteer Day
 It's the first week of the New Year, 10am. Sunday morning and ten hardy volunteers turned out for a day of planned conservation work on the reserve. With the weather looking good work continues in the Birch wood, thinning out the abundance of Silver Birch that has sprung up mainly over the last 40 years with the decline of the railways in the area. This is a 3 year project in conjunction with East Riding of Yorkshire Council and The Humber Head Levels Scheme assisted by volunteers from "Friends of Oakhill", and "The Conservation Volunteers". Today's plan is also to plant several Saplings around the site.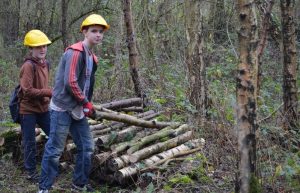 Work went well with time for snap in the picnic area around the cabin where several picnic tables are now placed. Today's team included 3 of our younger members, (Ewan, Regan & Jay). not forgetting Dan's two Jack Russell's, all of whom enjoyed the day, as Regan explained later. "Had a great time at Oakhill, it is such a beautiful place to chill out in the fresh air. Brilliant opportunity to be at one with the outside world. Because you are doing various activity's which will teach you some new skills to help you out in the future. Like on the volunteer day we were cutting down trees and it was fantastic. Because you learn how to cut them down the right way and the importance of using protective equipment e.g. a helmet and gloves etc. This proved to be sensible as our first attempts to get the trees to fall in a particular spot turned out to be a bit hit and miss at first, until we got hang of it. Looking forward to next time". Regan.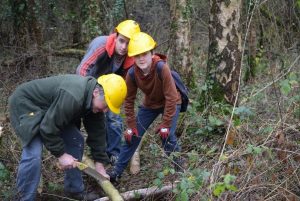 "Friends of Oakhill" are currently working on their "From Tiny Acorns" project, sponsored by "Goole Fields Windfarm Community Fund" from "Innogy". We are always looking for volunteers to help maintain this wonderful green space on the outskirts of Goole. Come along and join in, all welcome.
John Kay, Sec. "Friends of Oakhill".
Photos by J.M Kay