Despite still being reasonably mild, it very much feels like summer has bid farewell for the year and the characteristic signs and sounds of autumn are all around with large numbers of Redwing both passing overhead and feeding in the hedges on Oakhill and in the last few days one or two more Fieldfare.
Siskins and Redpolls are also very much in evidence in the woodland around the reserve but there are also still a few dragonflies, with both Common Darter and Migrant Hawkers around the brick ponds at the weekend.
With the vegetation growth slowing down and birds passing overhead it's time for access work and habitat management to begin on the site in earnest. During the last month both the Humberhead Levels volunteer group and the TCV have been busy on the reserve raking cuttings from the half of the grassland area which was scheduled for mowing this year.
14 of the Friends of Oakhill volunteers also braved a very wet Sunday morning to undertake access improvements at the brick ponds for the winter season, ensuring that the circular paths around the main ponds and associated pools are now clear for the winter and installing 3 new benches, under the careful supervision of the Kingfisher
The main layout of the Friend's new website is now in place and several of the group are working hard behind the scenes on updated species lists and further articles to grow this resource to enhance awareness, enjoyment and knowledge of the site. Hot off the press is also the new printed 'Guide to Oakhill' made possible by support for the group's From Tiny Acorns project generously funded by the Goole Community Windfarm Fund which includes a site trail guide and information on some of the wildlife to look out for onsite.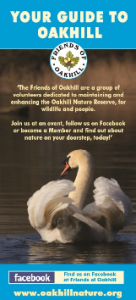 November will soon be upon us, and the group has much to do both on and off the reserve so if you think you could spare some time to write for the website, fancy honing your practical conservation skills on the reserve or have some fine photography taken during your visit to the site please do get in touch and share your sightings thoughts, experiences and images.
The next scheduled task day will be Sunday 20th of November. There will also be an 'Autumn arrives' guided walk organised on the reserve in the coming weeks. Keep an eye on the events page for the latest goings on.
In the meantime, pick up a fresh trail guide, test out the new 'pews' at the brick ponds and continue to enjoy the wildlife on your doorstep.
Matt Cox, Friends of Oakhill volunteer, October 2016